Awning Cleaning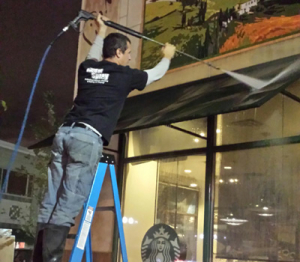 Awnings are one of the most popular types of signage. They're big, they're bright and they attract a lot of attention. They're the first thing customers see when they approach your business but they're generally not something that you, as a business owner, notice every day. But, awnings are prone to gathering mold, mildew, dust and debris and a proper awning cleaning, one that won't damage the fabric, frame or graphics, is best left to professional awning cleaning companies. That's what Umbrella One is the #1 awning cleaning company for business all over the United States.
We've cleaned 100's of awnings, from those of Fortune 500 companies Chicago, IL to single unit businesses in New York City. We know how important it is to have your primary signage looking clean and professional just like the business it represents.
For more information on Awning Cleaning please fill out the form on the right or call us today at (855) 934-2635.