In third party managed retail and restaurant repair and maintenance services, it's what you bring to the table that matters.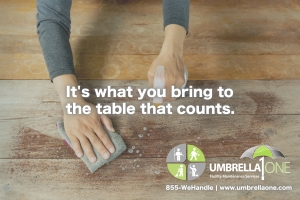 In our industry, there are two ways to explain the services we offer. You can discuss the specific general repair services (commercial handyman, plumbing, electric, etc.) that you perform at their properties and store locations or you can focus on what role you play that provides value in connection with those trades. While the details of the technician's capabilities are important, we emphasize the latter and prefer to explain why a company should involve a third party into their facility maintenance program.
UmbrellaOne tasks itself with affecting the outcome of a specific work order for the positive. Merely being a pass-through entity that yields no impact offers zero value to the customer and may actually work to encumber the overall performance. Our role is to provide our clients with the comfort and knowledge that their maintenance needs are being handled professionally, so they can move onto their next task. Our team of account managers accomplishes both the proactive and reactive maintenance needs of our clients, 24/7/365. Our value is derived from the following commitments to our clients.
Consistently provide responsive and detailed communications.
Procure local, experienced service partners that meet the criteria to work at our client's properties and are skilled in resolving the specific issue.
Ability to understand, evaluate and recommend solutions and their costs.
Document the details of site visits, required job materials, warranties, and other pertinent information.
Present timely, itemized invoices upon job completion.
Without these important steps, your role is minimal, and its benefit to the client is questionable. UmbrellaOne continually strives to act in ways that contribute to our client's growth and perform necessary services that maintain the guest experience, curb appeal and safety of their real estate assets. Thereby protecting their brand, their standards and increasing their bottom line.